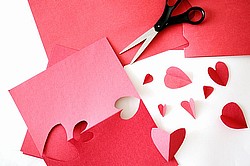 "The Devil's Dance" continues to sell, and moreso, now that the sequel is about ready to hit the shelves or the screen. Amazingly, I get so many e-mails from women who find the notoriously handsome Andre Rouloff, simply irresistible. Watch for the release date for the next romantic thriller that is guaranteed to rock your boat!
New Beginnings continues selling, and I receive a lot of communications from readers who were able to identify the mystery in their lives after reading this book. Part of the healing process is sharing. Once you are able to identify the source, and cut through the denial, that keeps us surrounded by the source, you will move ahead in your life.
Danger In The Tulip Fields is my initial attempt of including male readers into my audience. However, this is a powerful story that weaves the web of global crime and its influence on lives, the horrors of life in Afghanistan and the lack of medical treatment for women, and the individuals living abroad to bring these stories to you. How easy it can be for you to be distracted and pulled off your own life's path, and onto someone else's, and the possible consequences. All wrapped into a love story that will pull at those heart strings. An action packed story, not to be missed!
SEX trafficking is a volatile story taking place between Mexico and Manhattan and takes the reader inside to see what is going on with the herds of women moved around this globe, and being used and sold, like cattle for sex. The story draws you in, an up close and personal experience with these twisted maniacs that prepare special orders at a high price. SEX SLAVES anyway you look at it. While taking the journey, be sure to keep your mind straight, as these manipulative enforcers move along with their tactics to play with you head, until your sense of reality becomes distorted and you live in a constant state of fear for your life, as well as the lives of your family.These organizations have no souls, as you will witness, across the pages, as you travel along. This is a very current and ever growing global problem, and now adding labor to the sex slavery in some instances. The only way we can hope to eradicate this horrendous practice is to wipe these organizations off the planet.
When visiting your local book store, please ask them to order in a copy of one or both books. The books are available to these vendors through Baker & Taylor, and are listed. Please remind them of this, because someone new may not know this.Please note that you may place an order at barnes&noble.com or bordersstores.com for store pick-up.
ATTENTION BOOKSELLERS: This novel is available for wholesale purchase through Baker & Taylor
Please place your order at any of these websites:
amazon.com (borders)
barnes&noble.com (you can order for in-store delivery)
Target.com
FetchBook.com
BooksAMillion.com
Powells.com
Campusi.com
Bluerectangle.com
eCampus.com
walden.com
(click onto book and type in patti bengen and then click on the title as it appears)
BOOK WORM PUBLISHING LLC - (772) 783-7307
sweetstorygirl@aol.com
For all customers feel free to refer your requests to your local bookstores or you can purchase online at amazon.com or at another address listed as ticklesss-products.myshopify.com
If you would like to contact me, the author, directly, for whatever reason, please feel free to write to me at sweetstorygirl@aol.com